It's been a busy weeks for me and yeah I miss blogging. Oh well! Are you a workaholic girl like me? well it's time for you to treat yourself with MACY's super sales and discounts on selected items. I just purchased a Michael Kors Jet Set Travel Top Zip Tote in their online store. I choose Dark khaki gold. Not the same color with this picture.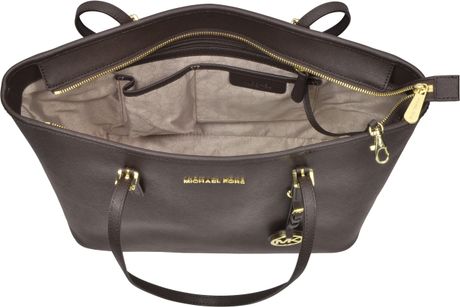 I absolutely can't wait for it to arrived. It will take 8-16 days to be delivered here in Riyadh because the order will come from United States. The bag is just simply fabulous. This is now my 2nd Michael Kors Bag and I absolutely love saffiano leather. Saffiano leather was made and discovered by Prada.
According to one website: Saffiano leather is made is by a stamping method. Saffiano, being a textured leather, meaning that it is a treated leather made with the texture pressed on it by a machine. It gives the leather a cross-hatch finish, which is a special diagonal pattern. This calf hide leather is also finished with a wax treatment. As a result, the leather is pretty much scratch resistant, durable and easy to clean.
My 1st Michael kors bag will attest to the durability of saffiano leather. I will definitely recommend to you guys that from now on, it is a must have in your closet. If you want to have a big discounts on Michael Kors bag, visit www1.macys.com they have great deal of prices. They are authentic and I'm 100% sure of that. Do guys hurry because it's just for a limited time.